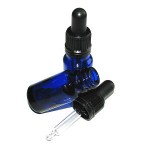 Essential oils are concentrated fragrances that are extracted from plants, usually through distillation. Common uses of essential oils include aromatherapy, perfumes, cleaning products, air fresheners, medicinal purposes, cosmetics, soaps, etc. Most essential oils are so strong that they should not be applied directly to the skin; they should be mixed with a "carrier oil", such as coconut oil, olive oil, jojoba oil, etc.
Most essential oils are divided into categories, such as citrus, woody, spicy and floral. They are also rated by the "note" of their scent, which is useful to keep in mind when mixing them.
Top notes are the first impression notes that usually overpower the others at first sniff, but their scent lasts a very short time. Middle notes are the second-most noticed, and will linger longer than the top notes. Base notes are the last to be noticed, but the longest to linger in support of the other two notes.
When blending essential oils, a good starting point would be 3:2:1 (top:middle:bottom) meaning for every 3 drops of your top note, use 2 of your middle and one of your base.
List of Essential Oils
| Type | Note | Category | Properties |
| --- | --- | --- | --- |
| Agarwood Oil | | | |
| Ajwain Oil | | | |
| Allspice Oil | | | anesthetic, analgesic, antioxidant, antiseptic, carminative, relaxant, rubefacient, stimulant, tonic |
| Amber Oil | | | |
| Amyris Oil | | | |
| Angelica Root Oil | Base Note | | anti-spasmodic, carminative, depurative, diaphoretic, digestive, diuretic, emenagogue, expectorant, febrifuge, hepatic, nervine, stimulant, stomachic, tonic |
| Anise Oil (Aniseed) | Top Note (Top to Middle) | | anti-epileptic, anti-hysteric, anti-rheumatic, anti-spasmodic, antiseptic, carminative, cordial, decongestant, digestive, expectorant, insecticide, sedative, stimulant, vermifuge |
| Atlas Cedar | | | antiseptic, anxiety, catarrh, diuretic, expectorant, fungicidal, good for respiratory issues, grounding, hair loss, sedative insecticide, tonic |
| Balsam Oil | Base Note | | |
| Basil Oil | Top Note | Herbaceous | antiseptic, adrenal stimulant, analgesic, anti-bacterial, anti-inflammatory, antibacterial, antidepressant, antispasmodic, antiviral, calming, carminative, improves mental fatigue, may stimulate hair growth, ophthalmic |
| Bay | Middle Note (Top Note) | | antibacterial, analgesic, anti-neuralgic, anti-spasmodic, antibiotic, antiseptic, aperitif, astringent, cholagogue, clarifying, emenagogue, febrifuge, insecticide, sedative, stomachic, sudorific, tonic, warming |
| Beeswax | Base Note | | |
| Benzoin (Siam Benzoin Resinoid) | Base Note | | anti-inflammatory, anti-depressant, anti-rheumatic, antiseptic, astringent, carminative, cordial, deodorant, disinfectant, diuretic, euphoric, expectorant, relaxant, sedative, vulnerary, warming |
| Bergamot Oil | Top Note (Top to Middle) | Citrus | antibiotic |
| Birch Oil | | | analgesic, anti-arthritic, anti-depressant, anti-inflammatory, anti-rheumatic, antiseptic, antispasmodic, astringent, depurative , detoxifying, disinfectant, diuretic, febrifuge, germicide, insecticide, stimulant, tonic |
| Bitter Almond Oil | | | anesthetic, anti-intoxicating, anti-spasmodic, aperient, bactericidal, cure for hydrophobia , diuretic, febrifuge, fungicidal, germicidal, sedative, vermifuge |
| Bitter Orange Oil | | Citrus | |
| Black Pepper Oil | Middle Note | | analgesic, anti-arthritic, anti-inflammatory, anti-rheumatic, anti-spasmodic, antibacterial, anticatarrhal, antioxidant, aperient, carminative, diaphoretic, digestive, expectorant, good for blood circulation |
| Black Sage Oil | | | |
| Bois-de-rose | Middle Note | | |
| Boldo Oil | | | |
| Boronia Absolute | | | |
| Buchu Oil | | | antiseptic, anti-arthritic, anti-rheumatic, carminative, digestive, diuretic, insecticide, tonic |
| Cajuput Oil | Middle Note | Medicinal/Camphorous | analgesic, antiseptic, anti-spasmodic, anti-neuralgic, bactericide, carminative, cosmetic, decongestant, emenagogue , expectorant, febrifuge, insecticide, stimulant, sudorific, tonic, vermifuge |
| Calamus Oil | | | anti-rheumatic, anti-spasmodic, cephalic, circulatory, memory boosting, nervine, stimulant, tranquilizing |
| Calamus Root Oil | | | |
| Calophyllum (Fatty Oil) | | | |
| Camphor Oil | | | anesthetic, antibacterial, anti-inflammatory, anti-neuralgic, anti-spasmodic, antiseptic, decongestant, disinfectant, insecticide, sedative, stimulant |
| Cannabis Flower Oil | | | |
| Caraway Oil | Top Note | | anti-histaminic, anti-spasmodic, antiseptic, aperitif, astringent, cardiac, carminative, digestive, disinfectant, diuretic, emenagogue, expectorant, galactogogue, insecticide, stimulant, stomachic, tonic, vermifuge |
| Cardamom Seed Oil | Top Note | | anti-spasmodic, antibacterial, antimicrobial, antiseptic, aphrodisiac, astringent, digestive, diuretic , reduces nausea, stimulant, stomachic |
| Carrot Seed Oil | Middle Note | | antioxidant, antiseptic, carminative, cytophylactic, depurative, detoxifier, disinfectant, diuretic, emenagogue, stimulant, tonic |
| Cassia Oil | | | anti-arthritic, anti-diarrhea, anti-emetic, anti-galactogogue, anti-rheumatic, anti-viral, antidepressant, antimicrobial, astringent, carminative, circulatory, emenagogue, febrifuge, stimulant |
| Cedar Leaf Oil | | | |
| Cedar Oil | | | |
| Cedarwood Oil | Base Note | Woody | anti-seborrhoeic, anti-spasmodic, antiseptic, astringent, diuretic, emenagogue, expectorant, fungicide, insecticide, sedative, tonic |
| Celery Oil | | | |
| Chamomile Oil | Middle Note | Floral | analgesic, antidepressant, anti-infectious, anti-neuralgic, anti-spasmodic, anti-inflammatory, anti-phlogistic, anti-spasmodic, antibacterial, antibiotic, antiseptic, bactericidal, carminative, cholagogue, cicatrisant, digestive, emenagogue, febrifuge, hepatic, nervine, sedative, stomachic, sudorific, tonic, vermifuge, vulnerary |
| Chamomile Oil, Green | Middle Note | | |
| Cinnamon Oil | Base Note | Spicy | anti-clotting, anti-fungal, antibacterial, antimicrobial, antispasmodic, antiviral, aromatic, astringent, astringent, carminative, carminative, cooling, diaphoretic, expectorant, stimulant, stimulating |
| Citronella Oil | Top Note & Middle Note | | anti-depressant, anti-inflammatory, anti-spasmodic, antibacterial, antiseptic, deodorant, diaphoretic, diuretic, febrifuge, fungicidal, insect repellent, stimulant, stomachic, tonic, vermifuge |
| Citrus Oil | | | |
| Clary Sage Oil | Top to Middle Note | Earthy, Floral | anti-convulsive, antidepressant, antiseptic, antispasmodic, aphrodisiac, astringent, bactericidal, carminative, deodorant, digestive, emenagogue, euphoric, helps balance hormones, hypotensive, nervine, sedative, sedative, stomachic, tonic, uterine |
| Clove Oil | Base Note | Spicy | analgesic, anti-fungal, anti-inflammatory, anti-rheumatic, antibiotic, antimicrobial, antiseptic, antiviral, aphrodisiac, stimulating |
| Coffee Oil | | | |
| Copla Resin | | | |
| Coriander Oil | Middle Note (Top Note) | | analgesic, anti-spasmodic, aphrodisiac, carminative, deodorant, depurative, digestive, fungicidal, lipolytic, stimulant, stomachic |
| Costmary Oil | | | |
| Costus Root Cranberry Seed Oil | | | |
| Cumin Oil | | | anti-spasmodic, antiseptic, anti-spasmodic, bactericidal, carminative, detoxifier, digestive, digestive, diuretic, emenagogue, galactogogue, nervine, stimulant, tonic |
| Curry Leaf Oil | | | |
| Cypress Oil | Middle to Base Note | Woody | anti-infectious, anti-rheumatic, anti-spasmodic, antibacterial, antiseptic, astringent, deodorant, diuretic, haemostatic, hepatic, respiratory tonic, restorative, sedative, styptic, sudorific, vasoconstrictor |
| Davana Oil | | | anti-depression, antiseptic, antiviral, disinfectant, emenagogue, expectorant, relaxant, vulnerary |
| Dill Oil | Middle Note (Top Note) | | |
| Elemi Oil | Middle Note | | analgesic, antiseptic, expectorant, stimulant, tonic |
| Eucalyptus Oil | Top Note | Medicinal/Camphorous | analgesic, anti-inflammatory, anti-spasmodic, antibacterial, antibiotic, anti-fungal, antiseptic, antiviral, decongestant, deodorant, diuretic, expectorant, increases circulation, stimulating |
| Eucalyptus Staigeriana Oil | | | |
| Everlasting Oil | | | |
| Fennel Seed Oil | Top to Middle Note | | anti-inflammatory, anti-nausea, anti-spasmodic, antiseptic, aperitif, carminative, depurative, digestive, diuretic, emenagogue, expectorant, galactogogue, good for bruises, laxative, splenic, stimulant, stomachic, tonic, vermifuge |
| Fenugreek Oil | | | |
| Fir Needle Oil | Middle Note | | |
| Frankincense Oil | Middle to Base Note | Earthy, Spicy | anti-inflammatory, antidepressant, antiseptic, astringent, calming, carminative, cicatrisant, cytophylactic, digestive, disinfectant, diuretic, elevating to mind, emenagogue, expectorant, immune stimulant, sedative, slows and deepens breathing, tonic, uterine, vulnerary |
| Galbanum Oil | Top Note | | anti-arthritic, anti-parasitic, anti-rheumatic, anti-spasmodic, cicatrisant, circulatory, decongestant, detoxifier, emollient, insecticide, vulnerary |
| Geranium Oil | Middle Note | Floral | analgesic, antibacterial, antidepressant, anti-fungal, antiseptic, astringent, balances emotions, cicatrisant, cytophylactic, deodorant, diuretic, haemostatic, styptic, tonic, uplifting, vermifuge, vulnerary |
| German Chamomile Oil | Middle Note | | analgesic, anti-allergenic, anti-inflammatory, antibacterial, antispasmodic, digestive, fungicidal, nerve sedative |
| Ginger Oil | Base Note | Spicy, Oriental | analgesic, anti-emetic, anti-spasmodic, antibacterial, antiseptic, bactericidal, carminative, cephalic, emenagogue, expectorant, febrifuge, laxative, rubefacient, stimulant, stomachic, sudorific, tonic |
| Grapefruit Oil | Top Note | | antidepressant, antiseptic, aperitif, astringent, disinfectant, diuretic, lymphatic, stimulant, tonic |
| Green Myrtle Oil | | | |
| Greenland Moss Oil | | | |
| Helichrysum Oil | Base Note | | anti-allergenic, anti-coagulant, anti-haematoma, anti-inflammatory, anti-phlogistic, anti-tussive, anticoagulant, antispasmodic, antimicrobial, antiseptic, antiviral, cholagogue, cicatrisant, cytophylactic , diuretic, emollient, expectorant, febrifuge, fungicidal, helps with addiction issues, hepatic, mucolytic, nervine |
| Henna Oil | | | |
| Hyssop Oil | Middle Note | | anti-rheumatic, anti-spasmodic, antibacterial, anti-fungal, antiseptic, astringent, carminative, cicatrisant, digestive, diuretic, emenagogue, expectorant, febrifuge, hypertensive, nervine, stimulant, sudorific, tonic, vermifuge, vulnerary |
| Jasmine Oil | Middle to Base Note | Floral | anti-depressant, anti-spasmodic, antiseptic, aphrodisiac, cicatrisant, emenagogue, expectorant, galactogogue, sedative, uterine |
| Juniper Berry Oil | Middle Note | | anti-rheumatic, anti-spasmodic, anti-toxic, anti-arthritic, antibacterial, anti-fungal, antiseptic, astringent, carminative, circulatory stimulant, depurative, diuretic, rubefacient, stimulating, stomachic, sudorific, tonic, vulnerary |
| Juniper Oil | Middle Note | Woody | |
| Khella Oil | | | |
| Laurel Oil | | | |
| Lavandin Oil | Top Note | | analgesic, antidepressant, antiseptic, cicatrisant, expectorant, nervine, vulnerary |
| Lavender Oil | Middle Note | Floral | analgesic, anti-inflammatory, anti-rheumatic, antibacterial, antibiotic, anti-convulsive, antidepressant, anti-fungal, antiseptic, antispasmodic, antiviral, calming, decongestant, deodorant, disinfectant, restorative, sedative, sleep inducing |
| Lemon Myrtle Oil | | | |
| Lemon Oil | Top Note | Citrus | antibacterial, antibiotic, anti-fungal, antiseptic, antiviral, aperitif, astringent, bactericidal, disinfectant, febrifuge, haemostatic, restorative, tonic |
| Lemon Verbena Oil | | | antibacterial |
| Lemongrass Oil | Top Note (Middle Note?) | | analgesic, anti-pyretic, antibacterial, antidepressant, antimicrobial, antiseptic, astringent, bactericidal, carminative, deodorant, diuretic, febrifuge, fungicidal, galactogogue, insecticidal, nervine, sedative, tonic |
| Lime Oil | Top Note | Citrus | antibacterial, antibiotic, antiseptic, antiviral, aperitif, astringent, bactericidal, disinfectant, febrifuge, haemostatic, restorative, tonic |
| Linden Blossom Oil | Middle Note | | |
| Litsea Cubeba Oil | | | antiseptic, disinfectant, insecticidal, sedative, stomachic |
| Lotus Oil | | | |
| Mandarin Oil | Top Note | Citrus | |
| Mandarin Petitgrain Oil | Top to Middle Note | Citrus | anti-spasmodic, antiseptic, circulatory, cytophylactic, depurative, digestive, hepatic, nervous relaxant, sedative, stomachic, tonic |
| Marjoram Oil | Middle Note | Herbaceous, Spicy | analgesic, antibacterial, antiseptic, antispasmodic, antiviral, aphrodisiac, bactericidal, carminative, cephalic, cordial, diaphoretic, digestive, diuretic, emenagogue, expectorant, fungicidal, helps mental exhaustion, hypotensive, laxative, nervine, sedative, stomachic, vasodilator, vulnerary |
| Mastic Oil | | | |
| May Chang Oil | | | |
| Melissa Oil | Middle Note | | anti-spasmodic, antibacterial, antidepressant, anti-histaminic, antispasmodic, bactericidal, carminative, cordial, diaphoretic, emenagogue, febrifuge, hypotensive, insect repellent, nervine, sedative, stomachic, sudorific, tonic |
| Mentha Arvensis Oil | | | |
| Mint Oil | Top Note | | |
| Mugwort Oil | | | cordial, digestive, diuretic, emenagogue, nervine, stimulant, uterine, vermifuge |
| Mustard Oil | | | anti-rheumatic, antibacterial, anti-fungal, appetizer, cordial, diaphoretic, hair vitalizer, insect repellent, irritant, stimulant, tonic |
| Myrrh Oil | Base Note | Spicy, Earthy, Woody | anticatarrhal, anti-inflammatory, anti-spasmodic , anti-fungal, antimicrobial, antiseptic, astringent, carminative, circulatory, diaphoretic, expectorant, good for respiratory, heals mouth sores, immune booster, immune stimulant, revitalizing, sedative, stimulant, stomachic, tonic, vulnerary |
| Myrtle Oil | Middle Note | Floral | antibiotic, anti-fungal, antiseptic, astringent, deodorant, expectorant, sedative |
| Neroli Oil | Middle to Base Note | Floral, Citrus | anti-depressant, anti-spasmodic, antiseptic, aphrodisiac, bactericidal, carminative, cicatrisant, cordial, cytophylactic, deodorant, digestive, disinfectant, emollient, sedative, tonic |
| Niaouli | Top Note | | analgesic, anti-rheumatic, antiseptic, bactericidal, balsamic, cicatrisant, decongestant, expectorant, febrifuge, insecticide, stimulant, vermifuge, vulnerary |
| Nutmeg Oil | Middle Note | Spicy | analgesic, anti-emetic, anti-parasitic, anti-rheumatic, anti-spasmodic, antibiotic, antioxidant, antiseptic, aphrodisiac, cardiac, laxative, prostaglandin inhibitor, stimulant, tonic, vermifuge |
| Oakmoss Oil | Base Note | Earthy | antiseptic, demulcent, expectorant, restorative |
| Olibanum Oil | Base Note | | |
| Orange Leaf Oil | | | |
| Orange Oil (Sweet) | Top Note | Citrus | anti-inflammatory, anti-spasmodic, antibacterial, antidepressant, antiseptic, aphrodisiac, carminative, cholagogue, diuretic, sedative, tonic |
| Oregano Oil | | | analgesic, anti-allergenic, anti-inflammatory, anti-parasitic, antibacterial, antibiotic, anti-fungal, antioxidant, antiseptic, anti-spasmodic, anti-toxic, antiviral, bactericidal, digestive, emenagogue, fungicidal, stimulant, tonic |
| Orris Oil | | | |
| Palmarosea (Palmarosa) Oil | Middle Note (Top Note) | Floral | antiseptic, antiviral, bactericide, cytophylactic, digestive, febrifuge, hydrating |
| Palo Santo | Middle Note | | |
| Parsley Oil | Middle Note | | anti-arthritic, anti-rheumatic, antimicrobial, antiseptic, astringent, carminative, circulatory, depurative, detoxifier, digestive, diuretic, emenagogue, febrifuge, hypotensive, laxative, stimulant, stomachic, uterine |
| Patchouli Oil | Base Note | Earthy, Spicy, Oriental | anti-inflammatory, anti-phlogistic, antibiotic, antidepressant, anti-fungal, antimicrobial, antiseptic, aphrodisiac, astringent, bactericidal, cicatrisant, cytophylactic, deodorant, diuretic, febrifuge, fungicide, good for skin, insecticide, nervine, nervous exhaustion, sedative, stress, tonic |
| Pennyroyal Oil | | | anti-arthritic, anti-hysteric, anti-rheumatic, antibacterial, antimicrobial, antiseptic, astringent, cordial, decongestant, depurative, digestive, emenagogue, insecticide, stomachic |
| Peppermint Oil | Top Note (Middle Note) | Minty | analgesic, anesthetic, anti-galactogogue, anti-phlogistic, anti-spasmodic, anti-infectious, anti-inflammatory, anti-fungal, antiseptic, astringent, carminative, cephalic, cholagogue, cordial, decongestant, digestive, emenagogue, expectorant, febrifuge, hepatic, invigorating, nervine, stimulant, stomachic, sudorific, vasoconstrictor, vermifuge |
| Perilla Essential Oil | | | |
| Petitgrain Oil | Top to Middle Note | Woody, Floral | anti-depressant, anti-spasmodic, antiseptic, deodorant, nervine, sedative |
| Pimento Oil | | | |
| Pine Geranium Oil | | | |
| Pine Oil | Middle Note | Woody | analgesic, antibacterial, antibiotic, antiseptic, aromatic, diuretic, energizing |
| Ravensare Oil | | | analgesic, anti-allergenic, anti-spasmodic, antibacterial, antidepressant, anti-fungal, antimicrobial, antiseptic, antiviral, aphrodisiac, disinfectant, diuretic, expectorant, relaxant, tonic |
| Red Cedar Oil | | | |
| Roman Chamomile Oil | Middle Note | | analgesic, antiseptic, antispasmodic, digestive, nerve sedative, respiratory distress |
| Rose Geranium Oil | Middle Note | | |
| Rose Oil | Middle to Base Note | Floral | anti-phlogistic, anti-spasmodic, antidepressant, antiseptic, antiviral, aphrodisiac, astringent, bactericidal, cholagogue, cicatrisant, depurative, emenagogue, haemostatic, hepatic, laxative, nervine, stomachic, uterine |
| Rose Otto Oil | | | |
| Rosehip Oil | | | |
| Rosemary Oil | Middle Note | Herbaceous | analgesic, analgesic, anti-inflammatory, anti-rheumatic, antibacterial, antiseptic, antispasmodic, astringent, carminative, decongestant, disinfectant, diuretic, may stimulate hair growth, restorative, stimulant, tonic |
| Rosewood Oil | Middle Note (Base to Middle) | Woody | analgesic, anti-infectious, antibacterial, antidepressant, anti-fungal, anti-parasitic, antiseptic, aphrodisiac, cephalic, deodorant, insecticide, stimulant, tones skin |
| Rue Oil | | | |
| Sage Oil | | | anti-inflammatory, antibacterial, anti-fungal, antimicrobial, antioxidant, antiseptic, antispasmodic, cholagogue and choleretic, cicatrisant, depurative, digestive, disinfectant, emenagogue, expectorant, febrifuge, laxative, stimulant |
| Sandalwood Oil | Base Note | Woody | anti-inflammatory, antibacterial, anti-fungal, anti-phlogistic, antiseptic, antispasmodic, antiviral, aphrodisiac, astringent, carminative, cicatrisant, decongestant, disinfectant, diuretic, emollient, expectorant, hypotensive, insecticide, memory booster, sedative, tonic |
| Sassafras Oil | | | |
| Savin | | | |
| Savory Oil | | | antibacterial, anti-fungal, antiseptic, antispasmodic, carminative, cephalic, emenagogue, expectorant, insecticide, nervine, restorative, stimulant, tonic |
| Schisandra Oil | | | |
| Scotch Pine Oil | | | |
| Spearmint Oil | Top Note | Minty | |
| Spike lavender Oil | | | |
| Spikenard Oil | Base Note | Earthy | anti-inflammatory, antibacterial, anti-fungal, deodorant, laxative, sedative, uterine |
| Spruce Oil | Middle Note | | anti-inflammatory, anti-infectious, antimicrobial, antispasmodic, expectorant, grounding, immune system stimulant, mentally invigorating |
| Star Anise Oil | | | |
| Tagetes | Top Note | | anti-spasmodic, antibiotic, antimicrobial, anti-parasitic, antiseptic, disinfectant, insecticide, sedative |
| Tangerine Oil | Top Note | Citrus | |
| Tansy Oil | | | anti-histaminic, anti-inflammatory, antibacterial, anti-fungal, antiviral, febrifuge, hormone stimulant, insecticide, sedative, vermifuge |
| Tarragon Oil | | | anti-inflammatory, anti-rheumatic, antiseptic, antispasmodic, aperitif, circulatory, deodorant, digestive, emenagogue, stimulant, vermifuge |
| Tea Tree Oil | Middle Note (Top to Middle) | Medicinal/Camphorous | anti-infectious, antibacterial, antibiotic, anti-fungal, antimicrobial, anti-parasitic, antiseptic, antiviral, balsamic, cicatrisant, decongestant, expectorant, fungicide, insecticide, stimulant, sudorific |
| Thuja Oil | | | anti-rheumatic, astringent, diuretic, emenagogue, expectorant, insect repellent, rubefacient, stimulant, tonic, vermifuge |
| Thyme Oil | Middle Note (Top to Middle) | | anti-rheumatic, anti-spasmodic, antibacterial, anti-fungal, antimicrobial, antiseptic, antispasmodic, antiviral, bactericidal, be-chic, cardiac, carminative, cicatrisant, diuretic, emenagogue, expectorant, hypertensive, insecticide, stimulant, tonic, vermifuge |
| Tsuga Oil | | | |
| Tuberose Absolute | | | aphrodisiac, deodorant, relaxing, sedative, warming |
| Turmeric Oil | | | |
| Valerian Oil | | | |
| Vanilla | | | anti-carcinogenic, antidepressant, antioxidant, aphrodisiac, febrifuge, relaxing , sedative, tranquilizing |
| Vetiver Oil | Base Note | Woody, Earthy | anti-inflammatory, antiseptic, aphrodisiac, cicatrisant, nervine, sedative, tonic, vulnerary |
| Wintergreen Oil | | | analgesic, anodyne, anti-arthritic, anti-rheumatic, anti-spasmodic, antibacterial, antiseptic, aromatic, astringent, carminative, diuretic, emenagogue, stimulant |
| Wormseed Oil | | | |
| Wormwood Oil | | | anti-helmitic, cholagogue, deodorant, digestive, emenagogue, febrifuge, insecticide, narcotic, tonic, vermifuge |
| Yarrow Oil | Middle Note | | anti-inflammatory, anti-rheumatic, anti-spasmodic, antiseptic, astringent, carminative, cicatrisant, diaphoretic, digestive, expectorant, haemostatic, hypotensive, stomachic, tonic |
| Ylang Ylang Oil | Middle to Base Note | Flora | anti-infectious, anti-seborrhoeic, antidepressant, antiseptic, aphrodisiac, euphoric, hormone regulator, hypotensive, nervine, sedative, sedative, tonic |
| Zedoary Oil | | | |
List of Property Descriptions
| Property | Description |
| --- | --- |
| Alterative | Cleanses the Blood and Corrects Impure Blood Conditions |
| Analgesic | Relieves Pain (Creates Loss of Sensation) |
| Anaphrodisiac | Diminishes Sexual Desire |
| Antacid | Neutralize Excess Stomach/Intestinal Acids |
| Anthelmintic | Destroys or Expels Intestinal Worms |
| Anti-sudorific | Reduces Sweating |
| Anti-allergenic | Reduces Symptoms of Allergies |
| Anti-arthritic | Combats Arthritis |
| Anti-emetic | Reduces the Incidence and Severity of Vomiting |
| Anti-inflammatory | Alleviates Inflammation |
| Anti-pruritic | Relieves or Prevents Itching |
| Anti-rheumatic | Relieves Rheumatism |
| Antiabortive | Inhibits Abortive Tendencies |
| Antiasthmatic | Relieves the Symptoms of Asthma |
| Antibiotic | Inhibit the Growth of Bacteria, Viruses, Etc. |
| Anticatarrhal | Eliminates Mucus or Prevents It From Forming |
| Anticonvulsive | Helps Arrest or Control Convulsions |
| Antidepressant | Uplifts, Counteracts Melancholy |
| Antimicrobial | Resists and Destroys Pathogenic Organisms |
| Antiphlogistic | Reduces Inflammation |
| Antipyretic | Cools, Reduces Fevers and Body Temperature |
| Antiseptic | Helps Control Infection |
| Antispasmodic | Prevents and Eases/Relieves Spasms and Cramps |
| Aphrodisiac | Arouses Sexual Desire |
| Astringent | Contracts/Tightens/Binds Tissues |
| Bactericide | Destroys Bacteria |
| Balsamic | Soothing, Balsaming |
| Cardiac | Stimulates the Heart |
| Carminative | Settles the Digestive System, Expels Gas From the Intestines |
| Cephalic | Stimulates and Settles the Mind |
| Cholagogue | Increases the Secretion and Flow of Bile Into the Duodenum |
| Choleretic | Aids Excretion of Bile by the Liver |
| Cicatrisant | Helps the Formation of Scar Tissue |
| Cordial | A Stimulant and Tonic for the Heart |
| Cytophylactic | Encourages Growth of Skin Cells |
| Decongestant | Relieves and Reduces Mucus Congestion |
| Demulcent | Soothes, Softens and Allays Irritation of Mucous Membranes |
| Deodorant | Destroys Odor |
| Depurative | Detoxifies and Purifies the Blood |
| Diaphoretic | Promotes Perspiration |
| Digestive | Aids Digestion |
| Disinfectant | Prevents or Combats the Spread of Germs |
| Diuretic | Increases the Flow of Urine |
| Emetic | Induces Vomiting |
| Emmenagogue | Promotes and Regulates Menstrual Flow |
| Emollient | Soothes and Softens Skin |
| Expectorant | Helps to Expel Mucus From the Respiratory System |
| Febrifuge | Cools, Reduces High Body Temperature |
| Fungicide | Destroys Fungus and Fungal Infections |
| Galactagogue | Increases Secretion of Milk |
| Germicidal | Destroys Germs and Micro-Organisms |
| Hemostatic | Stops Bleeding Hemorrhage |
| Hepatic | Stimulates the Function of the Liver and Gall Bladder |
| Hypertensive | Increases Blood Pressure |
| Hypoglycaemiant | Lowers Blood Sugar |
| Hypotensive | Lowers Blood Pressure |
| Insecticide | Kills Insects |
| Laxative | Aids Bowel Evacuation |
| Lithotriptic | Helps to Dissolve and Eliminate Urinary and Biliary Stones |
| Mucolytic | Breaks Down Mucus |
| Nervine | Strengthens the Nervous System |
| Parasiticide | Destroy Parasites in the Digestive Tract or on the Skin |
| Parturient | Helps During Delivery/Childbirth |
| Prophylactic | Helping Prevent Disease |
| Relaxant | Sooths, Relaxes, Relieves Strain and Tension |
| Rubefacient | Warms. Stimulates Blood Flow |
| Sedative | Calms, Reduces Functional Activity |
| Sialagogue | Stimulates the Flow of Saliva, Aids in Digestion of Starches |
| Soporific | Induces Sleep |
| Spasmolytic | See Antispasmodic |
| Splenetic | A tonic for the Spleen |
| Stimulant | Increases the Physiological Body Activity |
| Stomachic | Digestive Aid and Tonic |
| Styptic | Arrests External Bleeding |
| Sudorific | Increases Perspiration |
| Tonic | Strengthens and Improves Bodily Performance |
| Uterine | Tonic to the Uterus |
| Vasoconstrictor | Contracts Blood Vessel Walls |
| Vasodilator | Dilates Blood Vessels |
| Vermifuge | Expels Worms |
| Vulnerary | Prevents Tissue Fegeneration and Arrests Wound Bleeding |